Get involved.
Gun Safety
Alliance
We are committed to
reducing gun deaths
in the United States
50% by 2030.
Learn More About Us
Gun-Lock Safety Sunday
The
Gun Safety Alliance

increases connections and coordination across supporters of the gun violence prevention (GVP) movement, finding ways to amplify each others' work toward our goal of reducing gun deaths.

May 3, 2022 Fort Lauderdale, FL
As a result of the increase in gun violence and bloodshed continuing to flow throughout the United States, the faith communities across our land are officially responding to the victims family's cries and protest signs which have been directed at us….they shout "More than Prayers – Do Something!" If feels that until now, our faith communities have done little to respond or continue to look away! All faith and interfaith communities/denominations are invited to take place in this critical social justice action and to simply ask their congregants to lock up and safely store their guns. We CAN make a difference! Whereas this initiative began in the Christian community, it has quickly spread throughout the interfaith community, thus we are expanding it to our diverse faith community's worship days which also include Friday and Saturday this same weekend. It will take place June 24-26, 2022. In the Christian community the focus will be during worship on Sunday, June 26 th and other denominations are encouraged to recognize and speak on the need for gun safety during their services that weekend. We are teaming up with the national Gun Safety Alliance to spread the word and increase the lives that will be saved with this effort. The campaign's relevant tagline "More Than Prayers-Do Something" stems from protest signs carried and passionately displayed at gun violence demonstrations following both the Pulse Nightclub and Marjorie Stoneman Douglas school massacres. The faith community's message received and heard from the survivors and victim's families is that they are seeking our help to halt these senseless murders and to save lives especially of our youth and children. It's time that our faith communities do much more than pray and literally 'do something!" If we don't, who will? Do we hear their cries for help? While the debate continues regarding the "right to bear arms", and we are not entering that forum, innocent adults and children are being murdered and much harm can be prevented. Families are devastated and suffering. Our youth and children are being wounded and dying. Again, they cry out for our help. This gun-safety social justice action is not geared to ban firearms, it is solely to bring safety measures into place to save lives. It's that simple. ALL WE ASK IS "LOCK IT UP" with a gun-lock!
Some statistics:

5.4 million children live in the United States in homes with unlocked guns
Over 50% of all teen suicides are committed with a gun from the home
In Florida, a child is shot, on average, every 17 hours
Gun-lock safety WILL diminish these statistics and save lives. That's a fact!
Join in with our nation's faith communities and do something – Make a Difference! Our gun safety initiative team will be glad to provide you and your community of faith with digital promotional materials advertising the event (which you can edit for your specific faith community), how to take part, talking points, sample prayers for worship, and even guidance of either how to obtain gun locks for free or for minor costs.
To obtain information and/or to receive press kits, digital advertising, flyers, information packets and advice on purchasing or receiving donated gun locks which you can have available at your worship service, please contact our office at 954.563.4271 Ext 201 or email us at GunSafetyInitiative@UCCFTL.com Sponsoring this social justice action is the Florida Conference United Church of Christ. Let's "Do Something" TOGETHER!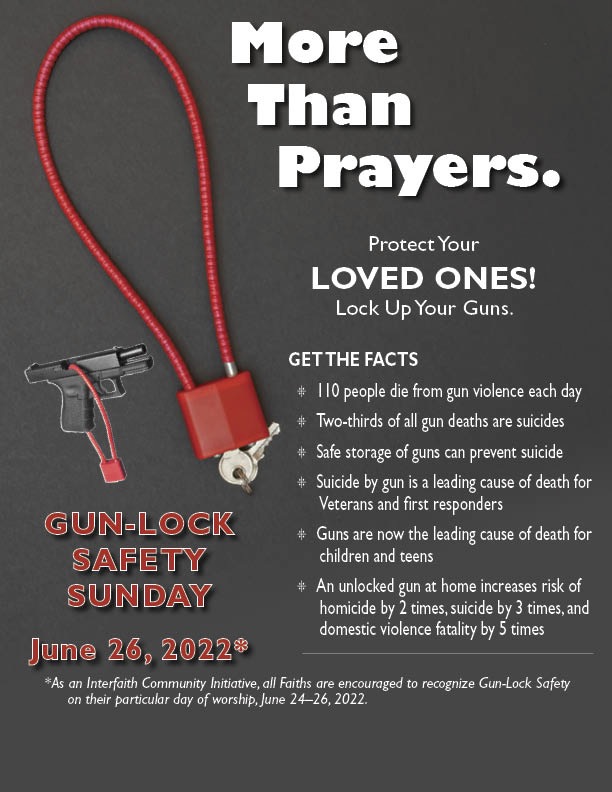 Gun Violence
Prevention
Partners
Join our movement.
The Gun Safety Alliance increases connections and coordination across supporters of the gun violence prevention (GVP) movement, finding ways to amplify each others' work toward our goal of reducing gun deaths.
Corporate Partners
Businesses support our movement through employee engagement, awareness campaigns, financial support, political leverage, and normalzing the values of our movement through their support.
Media Partners
Media, creative, and advertising partners help the messaging and narratives needed to bring more people and organizations into the movement.
Upload Media
🡒
Community Partners
Community partners, such as churches and nonprofits, have both the insights as well as direct relationships with families and communities impacted by gun violence.
Individual Contributors
Committed, passionate individual leaders and advisors who volunteer their time and expertise toward advancing our goals to reduce gun violence are greatly needed.
---
Learn Some Gun Facts
---
Learn More About Becoming a GVP Partner
---
Statistics About Gun Violence & Gun Safety
---
97% of Americans support universal background checks for gun sales.
---
93 Americans will die from gun violence today.
---
651 Americans will die from gun violence this week.
---
2,604 Americans will die from gun violence this month.
---
33,000 Americans will die from gun violence this year
---
Understand the Risks
---
A gun in the home is 19x more likely to be used to harm you.
---
The suicide rate in homes with guns is 5x higher than those without.
---
44% of adolescent suicides occur using guns.
---
82% of adolescent suicides involve a family member's gun.
---
In homes with children, 75% of the kids know where that gun is.
---
Saving Hundreds of Thousands of Lives is Possible if Everyone – Politicians, Businesses and Civil Society – Does Their Part
As of today, more than 60 gun violence prevention organizations and allied groups have aligned on a path to reduce gun deaths in the United States by 50 percent by 2030. While each of these organizations has their own approach, priorities and programs to reduce gun violence, all believe this reduction is possible if everyone – politicians, businesses and civil society – does their part. Each year, there are approximately 40,000 firearm deaths in the United States, and current statistics indicate that these numbers are likely to rise if we do not come together to take immediate action. The societal and political complexities that confound this issue continue to show there is no – nor will there be – one solution to ending this epidemic. Together, these organizations believe that if policies, programs and practices proven to reduce homicides, suicides and unintentional shootings are scaled up and advanced, there will be a significant reduction in gun-related deaths in the U.S.
The solution to reducing these senseless and preventable deaths is attainable if the combined forces of these organizations are harnessed, focused and directed towards initiatives that have had a demonstrable impact on gun-related deaths. It is only possible if elected officials, business leaders and citizens prioritize addressing this epidemic. Only through the combined forces of these groups – and a concerted effort to hold ourselves and society accountable for ending this violence – can we hope to create a better and safer future for us all.
The Pledge:
We the undersigned organizations are fighting to end the epidemic of gun violence in the United States. We work on the national, state and local levels. We work on legislation, policy, programs, research and direct interventions. Our approach, strategies and tactics sometimes differ, but all of us see the devastating effects of this preventable problem and are committed to reversing it.
We believe that the United States can reduce gun deaths by 50 percent by 2030. We know this is possible, but only if everyone does their part and we invite you to join us. We believe that we can save well more than 100,000 lives in the next ten years, but it will take many of us working together — from gun manufacturers to law enforcement, elected officials to CEOs, doctors to social workers, those who own guns and those who do not — toward this common purpose.
This is both a declaration of what's possible and a call to action. Countless lives are at stake. This enormous problem requires bold solutions. We pledge to work together to do our part to cut gun deaths by 50 percent over the next decade. But we can't do it alone.
We hope you will join us in doing your part.
---
Sign Up To Be A GVP Partner
---
Ways to Reduce Gun Deaths
Each year there are approximately 40,000 firearm deaths in the United States - these numbers are likely to rise without immediate action. Here are a few ways reduce gun deaths:
Passing legislation to require background checks on all gun sales
States that require a background check on gun sales have homicide rates 10% lower than those that do not.
Advancing Extreme Risk laws—sometimes referred to as "Red Flag" laws
States that have implemented Extreme Risk laws have seen, on average, a double-digit percent decrease in gun-related death rates.
Achieving adoption of secure storage practices – storing firearms unloaded, locked, and separate from ammunition
These practices are associated with a 78 percent lower risk of self-inflicted firearm injuries, and an 85 percent lower risk of unintentional firearm injuries among children.
Supporting violence intervention programs that provide comprehensive support to the individuals who are at greatest risk of gunshot victimization
Homicide and gun injuries fell nearly 40 percent in select communities where these programs exist.
Combating "Stand Your Ground" laws and recognizing the inherent danger of this legislation.
Some states that implemented "Stand Your Ground" laws saw a 32 percent increase in firearm homicide rates and a 24 percent increase in overall homicide rates since the policy was implemented.